A visit to the Anthony Nolan Labs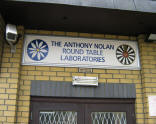 You just have to give a 4ml blood sample to join the Anthony Nolan Bone Marrow Register in the UK. And from that sample your tissue type is established.
But what happens to that blood sample arrives at the laboratories in London?
Tissue typing is a complicated process and the photos below show each stage of the procedure, from the logging in of the blood samples to the final tissue type.
Hopefully the photos will give you an appreciation of all that is involved in determining a tissue type.
---
| | | |
| --- | --- | --- |
| | | |
| Blood samples received and logged | DNA extraction | Storage of extracted DNA samples |
| | | |
| Pre PCR testing | DNA amplification | Corridor of freezers where samples are stored at -72°c |
| | | |
| Final testing stage | An individual's tissue type | Serology testing |